Monthly newsletter of the Niles Rotary club.
There's a new kid on the block!
Welcome President Dirk Lorenz! Dirk's our local florist, a Niles Rotarian for 12 years and now our President. We all wish him the best as he takes over the reigns of our club from Past President Bruce Prescott.
• Rotarian of the Year - Dana
• Awards and Recognitions
Hello fellow Rotarians! Thank you for allowing me to be your President in what is bound to be the most unprecedented start of any Rotary year ever. I know I express our entire club's gratitude when I give a huge shout out to now Past President Bruce. His steady leadership, guidance and humor through what has turned out to be the most unprecedented END to any Rotary year ever cannot be overstated. Thank you PP Bruce … we all look forward to your demotion … whatever form that may eventually take! Today, as I flip through The Rotarian magazine, I see article after article that reminds me why I was inspired to make "Rotary makes US Bloom" my tag line for my year as Niles Rotary President. Basically, being a Rotarian brings out what is naturally within each of us. It provides an avenue to channel that which is good within every member of this club and Rotary International. Yet … attending a meeting of Niles Rotarians is the very best way to see how each of us "bloom" in Rotary. At the time I am writing this article, we are all still "zooming" our meetings. I can't tell you how anxious I am to be able to once again look around the tables in the room at Washington West and celebrate in person how each of YOU adds to what I'd consider to be the most beautiful "bouquet" I've ever seen. Each member contributes in their own way … yet no one member is more "beautiful" to the overall "bouquet" than any other. The fertile soils of Rotary's motto "service above self" certainly allow Niles Rotarians to Bloom! As stated earlier, it's an unprecedented start to my year as president. At the beginning of March, I had a different set of goals and objectives than I now have. By the end of March I started thinking about a total "reboot" of my year. My thoughts of membership growth became some sleepless nights of contemplating membership retention. Knowing how the pandemic affected my business, I worried about others in the club whose businesses were dramatically altered. I contemplated our club's tradition of generosity … yet how we could best serve members who may need financial help maintaining their membership. As the next few months unfold, we will be contemplating what needs to be done to address these and other issues in our efforts to maintain the vitality and financial footing of our 82 year old club. Yet … of great importance is that we continue to ENJOY Rotary. I will elaborate on what I mean by this in the coming weeks. It will help us investigate new opportunities to keep Niles Rotary fun and relevant. As Rotary International President Holger Knaack's theme for the year states: "Rotary Opens Opportunities" … among those include the ability to allow each of us to bloom as a Niles Rotarian. Now let's all hope we can soon "open" the doors of Washington West and be together again. Once we do, I've proposed a Niles Rotary Family Reunion theme for that day. In the words of past president Brian Hughes … When we all can meet and come together, "let the good times roll!" Thank you for your Rotary heart and your membership in Niles Rotary! Keep on Blooming!

UPDATE All events are cancelled until further notice. "Zoom" Virtual Events may take place. Visit Club Calendar.
SAVE THE DATE RI Convention - Taipei - June 12 - 16, 2021.
CLUB MEETINGS All club meetings are happening on "Zoom". Contact us for details.
Rotarian of the Year - Dana
And the Rotarian of the Year is …… Dana Jones!! Congratulations!! Dana has served as Club Administration Director for 3 years, filling in the remainder of a term for her predecessor. Bruce mentioned Dana as the voice of reason at board meetings. And Dana has done a ton of work as Club Admin director.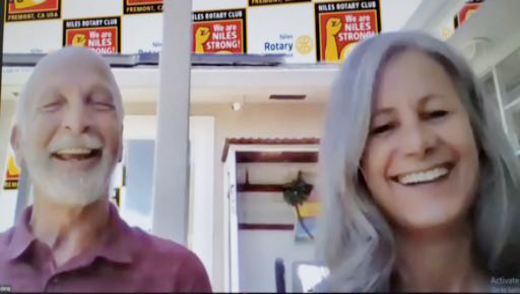 Congratulations to Dana Jones!
REMINDER Keep inviting Guests to our club meetings. Membership development, engagement, and retention are keys to our successful future.
Niles Rotarians received two of the special named awards from District 5170 that are awarded each year.
David A. Heagerty Rotary Public Image Award
Named after the 1992-93 District Governor, David A. Heagerty, this is awarded to the Rotarian who makes the greatest personal commitment to the promotion and public image of Rotary. Winner for 2019-20 Paul Phipps from the Rotary Club of Niles (Fremont).
Carl G. Orne World Peace & Understanding Award
Named after the 1986-87 District Governor, Carl G. Orne, this is awarded to the Rotarian who makes the greatest commitment to world peace and understanding. Winner for 2019-20 Richard Godfrey from the Rotary Club of Niles (Fremont).
Several other Niles Rotarians were recognized by DG Ramesh for their special contributions to the District at the District "Roast & Toast".
Lieutenant Governor and for his generous use of DRYCO for meetings and events.
Chairing and Planning for the District Conference that had to be cancelled.
For making the artwork for the District Conference.
For producing the COVID business panel for the District.
Assistant Governor for Area 3.
For becoming a member of the Arch Klumph Society with her generous donation.
Past Rotary International President and for advising the District on a wide range of matters.
DG Ramesh asked all his Presidents to name five members of their clubs who made special contributions to the club during the pandemic shutdown. President Bruce sent the following list to DG Ramesh.
Paul's knowledge of the Zoom platform was and remains instrumental to my ability to effectively run our virtual meetings. In addition to giving tutorials on the platform he helps each week with check-in through the Zoom waiting room and setting up our breakout rooms.
Chuck is the Membership Development Committee Chair and has done an outstanding job keeping the committee engaged during the pandemic. Among other things, he has helped us induct a member and have another exchange her red badge for blue during our virtual meetings.
PEN Audrey helped raise funds despite the cancellation of "Elimination Raffle". When 90% of ticket purchasers donated the price to our Foundation, Audrey's family matched $ for $ up till $40,000. With a match from the Foundation we now have over $80,000 to contribute to local not-for-profits.
Mary Lynn is our club photographer and she's done a great job of taking photos during our virtual meetings, which we then post on our Facebook page, in our weekly bulletin to our members, and in our monthly newsletter, the Pinion. I believe these photos help keep our members engaged.
Steven is our International Service Chair and a very exciting project to build a peace center in former Yugoslavia was aborted due to the pandemic. Steven quickly identified an alternative project for the use of Area 3 funds. He chairs our communications committee that has kept working on a new club website.
BOARD COMMITTEE Meets every 1st Thursday at 05:30pm via Zoom. All Members are welcome. MEMBERSHIP COMMITTEE Meets every 2nd Tuesday at 05:30pm via Zoom. All Members are welcome. NEW MEMBER CHECKIN Meets quarterly at 05:30pm via Zoom. Must attend for all New Members.