Pay Dues Online
You may pay your dues online as follows:
Log in at Clubrunner
Select "My ClubRunner"
Select "My Billing Account Balance"
Visit another Rotary Club
Rotary International has a search functionality to help you find other clubs.
Firepit Friday / Fellowship Friday
Niles Rotarian Members are invited to come attend these Firepit Fridays / Fellowship Fridays at the homes of Niles Rotarians to build relationships, learn more about the Rotary world and just enjoy a good time with each other. We do not publish the addresses online, so reach out to the hosting member or Sandi Pantages for more details. Generally speaking, bring the beverage of your choice to share and the host coordinates some light snacks.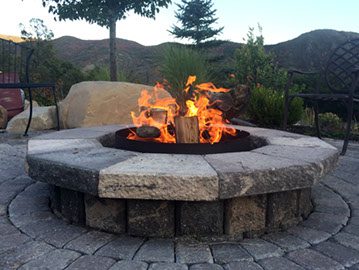 Current Schedule:
09.15.17 – Hosts: Tim Gavin & Regina Lin at 7:30pm (Fremont)
09.22.17 – Hosts: Gary & Merna Morse at 7:30pm (Fremont)
09.29.17 – Open (Contact Sandi to Host)
10.06.17 – Open (Contact Sandi to Host)
10.13.17 – Hosts: Craig & Tina Steckler at 7:00pm (Fremont)
10.20.17 – Host: Steven Lloyd at 7:00pm (Livermore)
Event Chair : Sandi Pantages
Niles' Club Committees:
Listed below are the club committees for 2017/18. Every Rotary year which begins on July 1st, the committee chairs may change.
1. Reverse Raffle: Chair is the President Elect. The Reverse Raffle is Niles Rotary's largest fundraising event each year. It is a dinner, silent auction, raffle baskets, Live Auction and a raffle for a grand prize of $5,000. All proceeds go to fund local charities and organizations. Grants for funding and donations are sent to the Niles Rotary Club's Gifting Committee for distribution of funds earned at the fundraiser. Grant applications are on our this website and are submitted in the Spring. Meetings start in the Fall. This year's event chair is Brian Hughes.
2. Chili Pepper Challenge: Chair is Daren Young. This is an Area 3 event with proceeds going to charities submitted by the 7 Rotary Clubs in Area 3. This social media event takes place in the Fall and meetings start in the summer.
3. Membership Development: Chuck Canada is the Membership Chair. Meets monthly to review membership development, inducts new members to the club and plans quarterly Mentor meetings.
4. Social: Chair is the immediate Past President, Angus Cochran. This committee plans all social events for the club for the year.
5. Youth Services: Chair for Youth Services is Adam Moura. Committee works with the Director as needed and covers Washington High School, Robertson High School and Fremont Christian High School.
6. International Services Projects: Chair is the International Services Director, Rich Godfrey. This committee works on finding new international projects, finishing any on-going projects and working with the Area 3 International Committee (WCSC, World Community Service Committee) on Area 3 projects.
7. Gifting Committee: Chair is Gary Charland. This committee meets in the spring of each year to review grants that have been submitted by local non-profit organizations. All monies earned at that year's Reverse Raffle are gifted to these grantees.
8. History Committee: A new committee to organize the history of Niles Rotary. No chair or dates have been set yet. Contact the Club President if interested.
9. Weekly Pre-meeting Slide Show: Contact Sandi Pantages. This group prepares the PowerPoint of information and photos for the month's activities that are shown at the weekly club meetings.
10. Public Relations: Chair is the Publicity Chair, Jeff Schinkel. This committee prepares or coordinates information for release to the media.
11. Niles Rotary Website and Facebook: Updates the club's website. Contact Audrey Kearns or Paul Andrus for updates, blogs or changes to the website.