Rancho Higuera – Mission San Jose & Niles Rotary Clubs Fencing Project
Over the next few months, Mission San Jose Rotary along with Niles Rotary are taking on the project of building a fence to protect the Adobe building located on Rancho Higuera Road in the Mission District of Fremont. This Adobe building has a rich history of early settlers of Fremont and some connections to many of our members that hail from the Azores. There will be a series of work days where we will need smaller groups to help flag the fence lines, dig post holes (with professional machinery), set the fence posts and finally place the hog wire fencing around the building.
This is needed because the City of Fremont will allow grazing nearby to reduce the fire hazard risk associated with the grasses in this area. The City of Fremont has agreed to fund the cost of the materials in supporting our Rotary Clubs in protecting this precious historical gem.
Anticipated Work Dates:
August, 2017 – Measure & Stake Fence Line (Completed)
September 9, 2017 – Post Hole Digging & Post Setting (Completed)
While we had a post hole digger at the location, about 50% of the holes needed to be hand drilled to break through the hard caked clay based soil at Rancho Higuera.
The holes need to be 24 inches deep to make the posts secure. Here we can see Rich Godfrey using his favorite new toy on September 9th. Paul Andrus & Rich took turns putting their weight into it to the holes going.
Larry Anderson did a great job and was a trooper working from before 7:30am until 12 noon in the hot summer heat. Any Niles Rotarians that want to get involved, please contact Paul Andrus – there will be more work projects coming up placing the hog wire and barb wire along the posts over the next month or so.
October 21, 2017 – Fencing Installation Work Project (Need 20 – 25 people from both clubs)
This is a meaningful project, please come and support. This project is open to inviting non-Rotarians, friends, family, high school students seeking volunteer hours and other community leaders. Please reach out to us to learn more.
Project Chair – Larry Anderson & Paul Andrus
Ghost House – Candlelighters Community Service Day
Join Niles Rotarians on November 4th, 2017 as we support the Candlelighters in their big annual fundraiser, the Ghost House, located at the Fremont Hub in between the Elephant Bar and Chili's restaurants. This community service activity will begin at 8am sharp and go to noon. There will be some coffee and donuts for a lite breakfast snack and for those who stay to the end – a nice lunch provided by the Candlelighters. Our own Jeff Schinkel is a member of the Candlelighters – if you have any specific questions, please feel free to reach out and ask Jeff.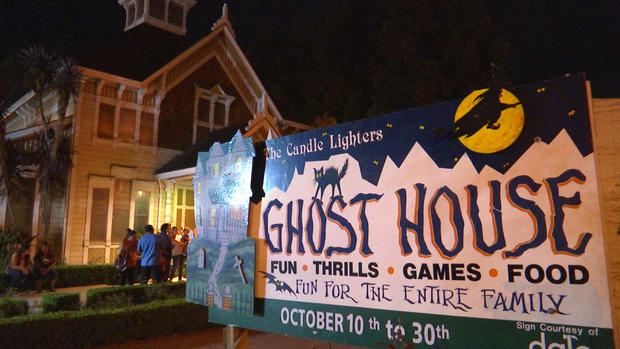 Please mark that day in your calendar and please share with friends, family and students to show up and help out. We can use all the help!
Chair Person : Jeff Schinkel / Community Service Chair : Paul Andrus