This blogpost was requested from our speaker Dr. Lily Muldoon by Paul Andrus with regard to her work in Africa. It so happens that our own Niles Rotarian, Dr. Rich Godfrey, during her speech in Fremont, California was meeting with one of her contacts in Kenya simultaneously. How small the world is when we work to do the good work together. Please enjoy her blogpost
Saving mothers and fighting disease are two areas of focus for Rotary International. Rotary Clubs from Colorado, California and Kenya are collaborating to tackle these priority issues.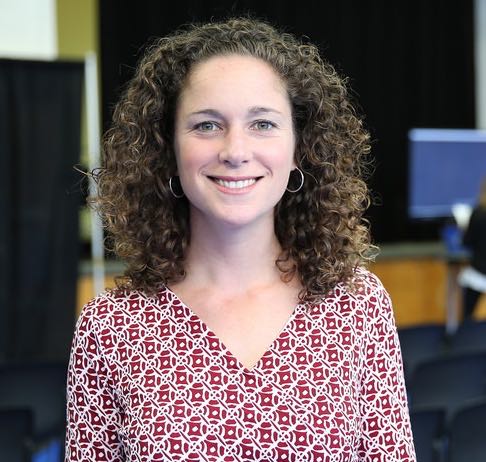 The Rotary Club of Mbita Mfangano is spear-heading a unique intervention, the Mfangano Health Network, to save mothers and children in one of the poorest and sickest populations in the world. Mothers and children in the Lake Victoria Basin of Kenya have limited access to health care and Rotary International is poised to respond.
I have been a Rotarian since 2007 and am proud to be collaborating with the Rotary Club of Mbita Mfangano. As a physician, I am horrified by the struggles women face on Mfangano Island trying to access prenatal care and, even more importantly, health care during labor. In fact, two years ago I delivered a baby in a boat while trying to cross the lake to get to the hospital on the mainland, as there are meager delivery services on the island.
Mfangano Island, Kenya
The remote communities of Mfangano Island, home to 26,000 Suba and Luo people, represent one of the poorest and most HIV prevalent populations in East Africa. With local HIV prevalence on Mfangano estimated at approximately 30% for over a decade, few places in the world have been hit harder by HIV/AIDS. Homa Bay County, where Mfangano Island is situated, is among 15 counties with the greatest maternal and newborn mortality burden in Kenya.
The Rotary Club of Mbita Mfangano
Since 2012, community leaders on Mfangano Island have been inspired by the work of Rotary and envisioned the formation of the first Rotary Club on Mfangano Island. With mentorship and support from Rotarians in Colorado and Kenya, as well the Governors of Districts 5440 and 9212, these local leaders successfully established and registered the Rotary Club of Mbita Mfangano in 2015.
Niles and Kenya
While I was on the BART train traveling from San Francisco to Fremont to present on the inception of the Mfangano Club to the Niles Rotary Club on January 12, 2017, I saw the below post by Robinson Okeyo, the first Project Service Director of the Mfangano Island Club.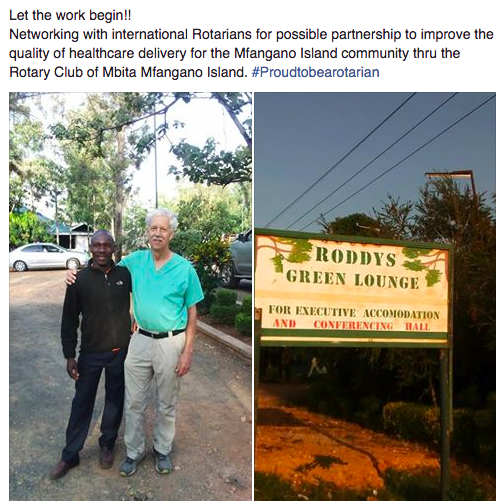 Here Robinson is pictured with Rotarian Dr. Richard Godfrey, the International Chair of the Niles Rotary Club, who is very active in Rotary in Western Kenya. They were joining together in fellowship while I was presenting to Richard's home club. This is one of many examples demonstrating the small but expansive world of Rotary International.
Global Grant: Mfangano Health Network
The Rotary Clubs of Mfangano Mbita and Fort Collins Breakfast are championing a Global Grant to promote maternal and child health. In partnership with a local NGO, Organic Health Response, we are building an island-wide network to coordinate and sustain maternal health for 26,000 people of HIV-affected communities of Mfangano Island, Western Kenya.
This Rotary project intends to support the building of a unique and powerful health maintenance network for the island community. Through a system of social support structures this program will empower mothers and adolescent girls with knowledge and increase access to primary, obstetric and delivery care.
Learn more about the grant on the Rotary International Global Grants website.
Feel free to reach out to me with ideas and questions.
Lily Muldoon – lily.muldoon@gmail.com
Blogpost updated by Niles Rotarian Paul Andrus – Website Chair
Lily Muldoon, MD, MPH
Organic Health Response, Health Advisor
Community Health Worker engaging with men in maternal and child care, a unique component of the Mfangano Health Network
Mfangano Health Network: Harnessing the power of existing social networks to activate community-level involvement in health coordination, monitoring, and mobilization.